This pomegranate green tea is simple to make and delicious chilled or iced. Make your healthy green tea tasty as well with homemade grenadine!
Together, they make a tart, refreshing drink with just enough caffeine and none of the added chemicals you'd get from buying something similar at the store.
Benefits of green tea
All types of tea contain polyphenols, which can reduce inflammation. Reducing inflammation is good for all kinds of reasons, including reducing your risk for or slowing diabetes and memory issues later in life.
Green tea is a great source of antioxidants. Since oxidative damage can lead to chronic inflammation, this is great news for us tea drinkers. Moreover, antioxidants may have a protective effect against cancer by stabilizing free radicals that can damage our cells.
Green tea may help improve our insulin sensitivity, which in turn could help us lower our blood sugar levels.
And speaking of health benefits, you may want to buy a large bottle of pomegranate juice for this recipe so you have plenty of juice left to drink undiluted.
Benefits of pomegranates and pomegranate juice
Pomegranates contain powerful antioxidants called punicalagins. These antioxidants are three times as potent as the antioxidants you will find in green tea or red wine. These antioxidants have been shown to reduce inflammation, which again can help with memory for older adults and a whole host of other issues like diabetes, cancer, and heart disease.
Pomegranate juice has been shown to significantly reduce high blood pressure (also called hypertension) in two weeks when study subjects with high blood pressure drank five ounces daily. (If you want the numbers showing what was considered significant, here's the study. I'm more of a big picture person so I didn't get that far.)
With no further ado, let's get in the kitchen!
Prep the Grenadine (and Ice) Ahead of Time
The first step in this pomegranate green tea recipe is to make the grenadine. If you don't want your drink to be too diluted with ice, you can make the grenadine and brew the green tea the night before or early in the day so they have plenty of time to cool. While you are preparing the grenadine, check to make sure you have ice and make some if needed.
In the past, I bought a bottle of grenadine from the grocery store for some recipe or other. Once I finished it, I knew I didn't want to buy another one. The flavor was very uninspiring, and the ingredients list prominently featured Red 40 and high fructose corn syrup. For this reason, it was not ideal for me.
Emboldened by my success with making homemade simple syrup, I tried my hand at making my own grenadine. It was a very successful experiment! This grenadine tastes way better, and you can taste the fact that there are pomegranates involved, unlike the store bought version.
Easy Homemade Grenadine Recipe Ingredients
Before you begin, you will need:
8 ounces of 100% pomegranate juice
Saucepan and spoon to stir
How to Make Grenadine
Add equal parts pomegranate juice and sugar to a saucepan.
Heat and stir until all the sugar has dissolved.
Pour into a jar, allow to cook, and store in the fridge.
That's it! You will now have plenty of leftover grenadine after this recipe to add to seltzer (as below), lemonade, or even to make snow cones with!
Pomegranate Green Tea Ingredients
Before you begin, you will need:
A one quart jar or pitcher
4 bags of green tea or about 4 teaspoons of loose leaf green tea in a strainer/filter if you are using loose leaf tea rather than tea bags
4 tablespoons of grenadine, to taste
A kettle or saucepan to heat the water
How to make pomegranate green tea
First, heat your water in a kettle or over the stove. Once it's almost boiling, pour it into your jar or pitcher. Have a timer of some kind ready. Place your tea bags or tea strainer into the hot water.
Don't go anywhere! I dislike how overbrewed green tea becomes bitter, so I err on the side of caution and only brew my green tea for around 60 seconds. This may be a bit wasteful but this way I know I will like the end result.
Once the 60 seconds are up, I dunk the tea bags a time or two and then remove them from the jar. I do not squeeze out the bags with a spoon, again to prevent the green tea from becoming bitter.
Add your grenadine to your green tea and stir to combine. Or, if people in your household want different levels of sweetness, mix this drink in each individual glass. One tablespoon of grenadine mixed with eight ounces of green tea yields a tart, refreshing drink that still tastes like green tea. If you want it sweeter or fruitier, add more grenadine (or less, to taste).
You could make this drink hot, but generally at this point I let the pomegranate green tea sit until it is room temperature, and then move it to the fridge.
After that, if you are serving this immediately as a cold drink, pour over ice. Enjoy!
If you try this recipe, please let me know how you like it by rating the recipe below or leaving a comment.
Best Practice
Of course, keep in mind that with ice, your drink is more diluted, which is great if you are aiming to stay hydrated. However, this will also dilute the flavor, so you may want to make your tea stronger and use more grenadine if you plan on serving right away over ice.
Variations on Pomegranate Green Tea
This is a simple recipe you can adapt however you would like. Try flavored green tea for a more complex drink.
If you want to try your hand at juicing a fresh pomegranate, that would most likely yield a more tart and authentic grenadine.
Dress it up with fresh fruit or herbs, like lemon wedges or mint. This pomegranate green tea would also be delicious with fresh berries, either as a garnish or muddled at the bottom.
If you found this article helpful, please consider joining my email newsletter community for new recipes delivered straight to your inbox!
Pin it for later!
Shop this post
As an Amazon Associate I earn from qualifying purchases, at no additional cost to you. This post contains affiliate links, below. You can read more here.
Dishwasher safe whiskey glasses with decanter
Related drink recipes
Blackberry Mint Lemonade with Simple Syrup
Important: This post is for informational and educational purposes only. This post should not be taken as medical or nutritional advice or used as a substitute for such. You should always speak to your own doctor or nutritionist before implementing this information on your own. Thank you!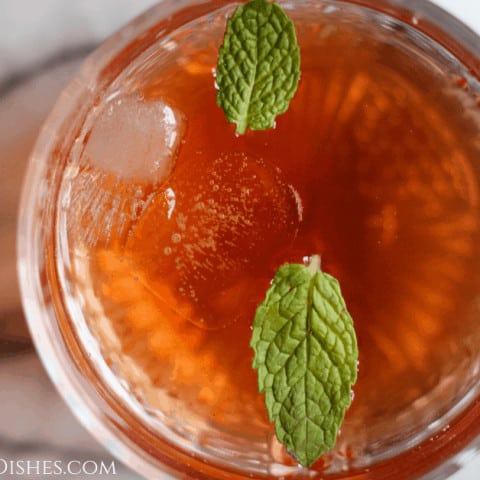 Pomegranate Green Tea
This pomegranate green tea is simple to make and delicious chilled or iced. Make your healthy green tea tasty as well with homemade grenadine! Together, they make a tart, refreshing drink with just enough caffeine.
Ingredients
GRENADINE INGREDIENTS:
1 cup 100% pomegranate juice
1 cup sugar
POMEGRANATE GREEN TEA INGREDIENTS
4 cups hot water
4 green tea bags or about 4 teaspoons loose leaf green tea in strainer or filter
4 tablespoons grenadine
Instructions
First, make your grenadine. Mix equal parts pomegranate juice and sugar in a saucepan and heat. Stir until all sugar has dissolved. Pour into jar.
Heat your water in a kettle or on the stove until almost boiling.
Pour into quart jar or pitcher. Add tea bags or loose leaf tea. Brew 60 seconds to avoid bitterness. Dunk tea bags a time or two and remove from jar. Do not press the tea bags, again to avoid bitterness.
Add grenadine and stir. Allow to cool or serve over ice!
I hope you love this pomegranate green tea!