Healthline calls it "the healthiest bread you can eat," but is Ezekiel bread keto? Yes and no. Here's what you need to know.
The short answer
Yes and no. Helpful, I know.
Technically, anything is keto if you eat a tiny enough portion of it that you stay in ketosis.
(Quick refresher: ketosis is a metabolic state where your liver breaks down fatty acids that turn into ketones for your body to use as fuel, rather than relying on the carbohydrates in your diet as the first source of fuel. This state is the goal of the ketogenic diet (keto for short), a popular diet for fat loss.)
For example, grapes are a fairly high-sugar fruit, so some strict adherents to the keto diet say you can't even eat a single grape while on a keto diet (although later in the article they say maybe two or three would be okay).
However, others say to pick a low-sugar grape variety (for example, green or white grapes tend to have less sugar than red grapes) and eat no more than half a cup per day on a keto diet. This approach uses a small serving of grapes as a sensible treat to keep you sticking with your diet, rather than giving up and having a cupcake, for example. (I think this is one of the best tips for any sustainable pattern of healthful eating.)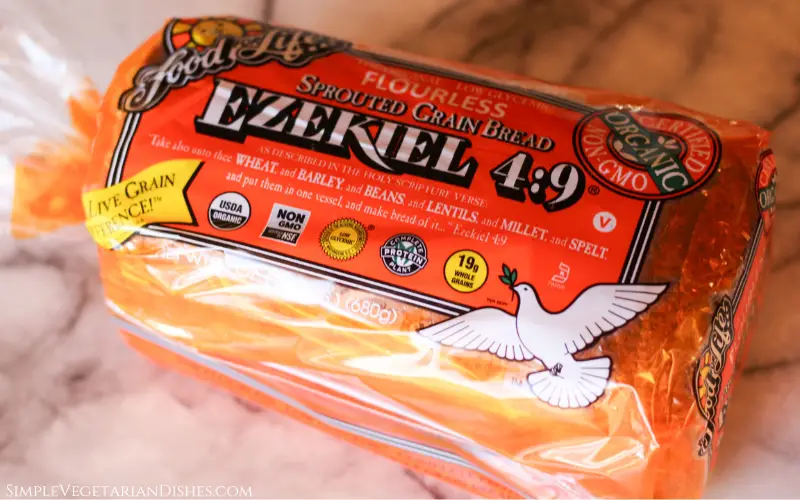 How many carbs can you have and still stay in ketosis?
While ketogenic diets vary, generally you can eat no more than 50 grams of carbs per day total.
Some keto diets restrict you to no more than 20 grams of carbs daily.
Others say eat no more than 35 grams of total carbs or 25 grams of net carbs (total carbs minus total fiber).
Some are permissive enough to allow 50 grams of net carbs.
Even so, none of those figures include very many carbs. For example, depending on the size, most individual bagels range from 48-56 grams of total carbs each, so they are pretty much out on a keto diet.
If you want to be sure of your own reaction to certain foods and if they knock you out of ketosis, you will have to test your blood sugar with a finger prick of blood and test strips.
Of course, the exact amount of carbs you can eat varies based on the total amount of food you eat. The standard ketogenic diet allows only 10% of your diet to come from carbs.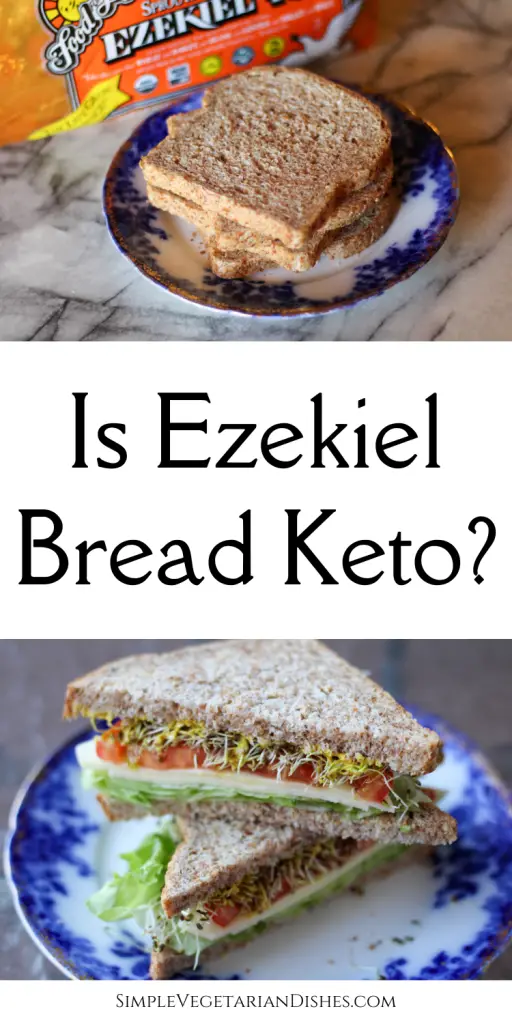 What is Ezekiel bread exactly?
While bread is not exactly known for being keto-friendly, there are important differences between Ezekiel bread and your standard fare.
Food for Life Ezekiel bread is a sprouted grain and legume bread made using whole sprouted wheat, barley, spelt, millet, soybeans, and lentils. (Wheat is still the primary ingredient.) It features a nutty flavor (and is delicious with peanut butter). It contains no added sugar, no refined wheat flour, and no artificial sweetener of any kind.
Sprouted bread made from a variety of whole grains, like Ezekiel bread, is marketed as being more nutrient-dense than traditional bread. This is because sprouting the grains and legumes first significantly reduces the number of antinutrients, such as phytic acid. (Soaking, fermenting, and cooking also reduce antinutrients.)
Antinutrients are plants' self-defense mechanism to avoid being eaten so they can survive and reproduce. They make it harder for us to absorb certain nutrients otherwise available in the plant, and they can inhibit digestive enzymes. They are not all bad though. Phytic acid is also an antioxidant that helps support your immune system by reducing inflammation.
Sprouting can also reduce the amount of gluten, although the end result absolutely still does contain gluten, which can have a severe impact on some people's health.
You can usually find Ezekiel bread in the freezer section of most grocery stores and health food stores. It is not on store shelves with more traditional commercial breads.
Why is Ezekiel bread so popular for low-carb diets?
If you are going to include bread, which is primarily carbohydrates, in your low-carb diet, you want it to pack a nutritional punch for the amount of carbs it contains.
As commercially available breads go, Ezekiel bread is a pretty healthy choice in this respect. In fact, Healthline calls Ezekiel bread "the healthiest bread you can eat." It contains fiber and protein to help you feel full, and since it is a sprouted bread, Ezekiel bread has more nutrients and fewer antinutrients than unsprouted white bread.
It also makes a pretty tasty sandwich, which is another important factor to consider for feeling satisfied.
Ezekiel Bread Carbs and Nutrition Facts
This information is approximate for one slice (1/20th of the loaf) of the standard Ezekiel 4:9 bread. The data is pulled from Safeway's website listing.
80 calories
0.5 gram fat
5 grams protein
15 grams carbs
3 grams dietary fiber
0 grams sugar
0 mg cholesterol
75 mg sodium
81 mg potassium
9 mg calcium
1 mg iron
So Is Ezekiel bread keto?
As you can see above, one slice of Ezekiel bread has 15 grams of total carbs (12 grams of net carbohydrates). If you follow a 50 gram limit of total carbohydrates per day, you can definitely work in a slice or two when you are craving a sandwich.
With that being said, just keep in mind that the 50 gram limit has to include everything keto dieters eat that day, even the objectively healthy stuff.
For example, one cup of raw, chopped broccoli has 6 grams of carbohydrates and 2.4 grams of fiber, meaning it has 3.6 g net carbs. More than 1/3 of the carbs in broccoli come from fiber, so I would consider them good carbs. If staying is ketosis is important to you, though, you'll have to carefully track everything you eat.
Even a large hard-boiled egg has about one gram of carbs.
So yes, you can incorporate modest amounts of Ezekiel bread into a keto diet, but no, it is not a keto-friendly food that you can eat large amounts of.
If you are following a strict, 20 gram maximum of carbohydrates per day, you will probably want to avoid Ezekiel bread completely.
Important: Ezekiel bread is not gluten-free
If you have celiac disease, gluten intolerance, non-celiac gluten sensitivity, related food allergies, or any other similar health status, it would be best to avoid Ezekiel bread (and bread in general) entirely as it does contain wheat gluten, as well as gluten from barley and spelt.
A good gluten-free bread option is Ener-G Yeast-Free Brown Rice Loaf. However, that type of bread also contains 15 grams of carbs per slice, so it is not particularly keto-friendly and should only be included in moderation in a low-carb diet plan.
What is the meaning of the name Ezekiel 4:9?
The name of this bread comes from a Bible verse in the Book of Ezekiel in the Hebrew Bible, also known as The Old Testament. Here it is:
"Take thou also unto thee wheat, and barley, and beans, and lentiles, and millet, and fitches, and put them in one vessel, and make thee bread thereof, according to the number of the days that thou shalt lie upon thy side, three hundred and ninety days shalt thou eat thereof."

Ezekiel 4:9
This translation is from the King James Bible Online. Other translations may vary.
What is bread anyway?
Before we get too deep into the weeds, let's take a step back and think about bread more generally.
Bread is traditionally made from the flour of ground cereal grains, which are generally sources of complex carbohydrates and fiber (and therefore would be considered non-keto ingredients).
By its very nature, then, bread is naturally a carbohydrate-based food, best avoided on a keto diet (or at least eaten in very small portions).
However, with diet foods with catchy names abounding (looking at you, cloud bread), it's good to make sure we're all on the same page.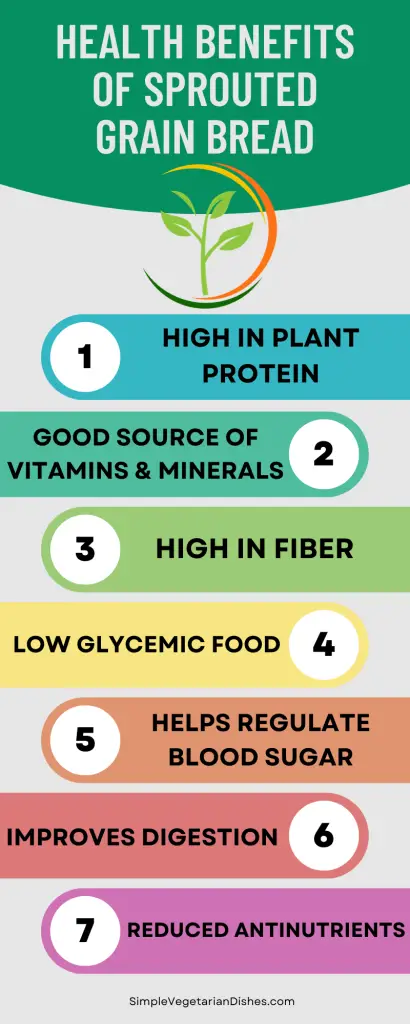 Health benefits of sprouted grain breads, including Ezekiel bread
First, they are a good source of protein, vitamins, and minerals
Sprouted grain breads are a great source of vital nutrients.
For example, Ezekiel bread contains 3 grams of protein per slice.
Sprouting grains increases their lysine content. Lysine is one of the nine essential amino acids that our bodies need, but cannot create on their own. We must eat it for health (amino acids are the building blocks of protein), but generally plants contain very little. Sprouting enhances lysine's bioavailability.
In fact, Ezekiel bread contains 18 amino acids, including all 9 of the essential amino acids, which makes it a complete protein source.
Sprouting wheat specifically may also cause significant increases in plenty of nutrients, including:
protein,
soluble fiber,
folate, and
vitamin C.
This increased bioaccessibility is the main benefit of sprouted grains.
Sprouted grain breads (like Ezekiel bread) can improve your digestion
Ezekiel bread contains 3 grams of fiber per one slice (compared to Sara Lee Classic White Bread, which clocks in at 1 gram per two slices).
That means Ezekiel bread has 600% more fiber than standard white bread.
Fiber is wonderful for the digestive system, and can prevent or relieve constipation.
Fiber can also help us maintain a healthy weight and lower our risk of diabetes, heart disease, and certain kinds of cancer.
In addition, sprouted grain breads may help regulate blood sugar
Ezekiel bread has a score of 36 on the glycemic index (on a scale of 1-100). Therefore, it is certified low glycemic by the Glycemic Research Institute.
The glycemic index rates foods on how fast they raise the glucose level of the blood (also called blood sugar levels) after eating them.
For comparison, white bread has a score of 75, while whole wheat bread has a score of 74 on the glycemic index, according to VeryWellHealth. (GI scores do vary, sometimes significantly, depending on who you ask. Many people consider white bread to have a GI score of 100, for example.)
What does that mean for you?
The fiber in Ezekiel bread slows down how quickly your blood sugar levels rise after eating it, compared to higher GI foods like traditional, unsprouted bread.
Foods with a low glycemic index score (like Ezekiel bread) take longer for your body to break down into simple sugars to use as fuel. They prolong digestion, which can help you feel full for longer after a meal.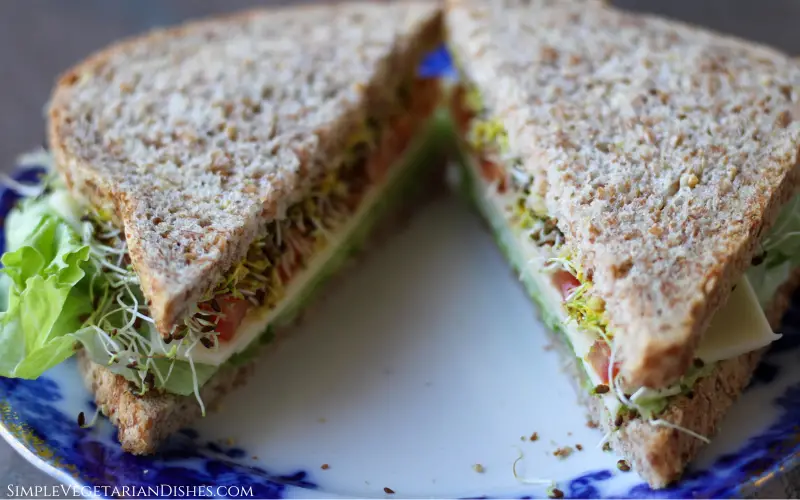 Can you eat bread while following a low-carb diet?
Some people consider bread to be a food with no brakes (the kind that once you start eating, suddenly the whole bread loaf is gone). If that sounds like you, then no, you probably will want to avoid bread on a low-carb diet.
However, depending on what macronutrient breakdown you choose to follow (the ratio of carbs, fats, and proteins), you may be able to include some small amounts of bread in your low-carb diet.
How often should you avoid bread on a low-carb or keto diet?
If you are the kind of person who can't just have half a sandwich and put the rest away for tomorrow, it may be a good choice for you to avoid bread entirely.
Some people seem to have less of an all or nothing approach and can eat bread in moderation while still following a primarily low-carb diet.
Unfortunately, there is no right answer for everyone. You will have to just experiment and judge for yourself what leads to the best results for you personally.
Conclusion: Avoid overeating Ezekiel bread (and the carbs in it) on the Keto diet to reduce your carb intake
Consider eating a small amount of Ezekiel bread as an occasional treat on less strict low-carb diets.
If you found this article helpful, please consider joining my email newsletter community for new recipes delivered straight to your inbox!
Ready to try some yourself?
(As an Amazon Associate I earn from qualifying purchases, at no additional cost to you. This post contains affiliate links, below. You can read more here.)
(There are many different varieties to choose from, like sesame or flax, including one called Prophet's Pocket Bread.)
Keto Ezekiel bread alternatives to try
TheSpruceEats lists some great keto breads you can buy. Here are their top 3 types of bread:
Sola Sweet and Buttery Bread
Great Low Carb Bread Co. Sourdough Bread Loaf
Hero Flour Tortillas
You may also be interested in:
Franz Bakery Keto English Muffins
With the caveat that these do have carbs and have to be carefully calculated to fit into a keto diet, here are some other kinds of sprouted whole grain bread to try as an alternative to Ezekiel bread while attempting a low-carb diet:
Dave's Killer Bread Sprouted Whole Grains
Udi's Hearty Sprouted Grains Artisan Bread
Keto friendly Bread recipes for low-carb health
Here are recipes for some low carb alternatives that are more keto-friendly than Ezekiel bread.
Looking for additional keto diet recipes?
For additional help with sticking with a keto diet, there are plenty of free apps and websites with great information, such as MyFitnessPal and Carb Manager's Keto Academy, that can help you track your macros.
Important: This post is for informational and educational purposes only. This post should not be taken as medical or nutritional advice or used as a substitute for such. You should always speak to your own doctor or nutritionist before implementing this information on your own. Thank you!
So now you know: Is Ezekiel bread keto? Only in small portions – otherwise no!