If you had to only learn one meal prepping technique, making battuto would be a great place to start!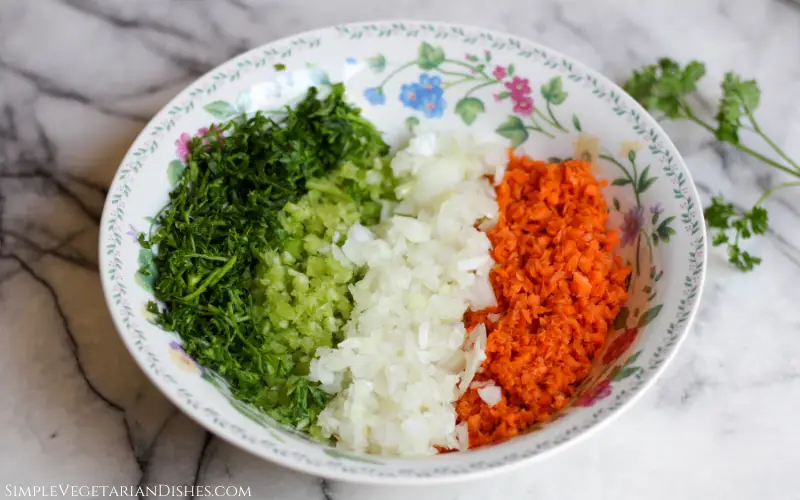 This blend of minced vegetables and herbs can become the foundation of countless delicious meals: marinara sauces, soups, stir-fries, omelettes, frittatas, and more!
What is battuto?
So what's in it?
Mary Ann Esposito from Ciao Italia calls onions, celery, carrots, and garlic "the four evangelists of Italian cooking."
These ingredients are certainly a great place to start!
Some add parsley or basil in place of the garlic, or even fennel. Others say you should never use basil in battuto.
When making battuto, different families tend to have slightly different ratios of veggies, as well as different herbs that they use.
Many people try for roughly equal portions of each vegetable, as I did. Others use two parts onion to one part each celery and carrot.
Why should I make this?
Sometimes prepping and chopping all the vegetables can be the hardest and most intimidating part of cooking after a long day, as I'm sure you are well aware.
By making a large batch of battuto all at once, you can freeze portions for later, which makes putting a nutritious, home-cooked meal on the table much easier!
(I'm also a fan of frozen, pre-cut veggies for busy seasons. However, I'm trying to buy less items that come in single use plastic. For this reason, making my own battuto is a great option.)
You can read my full article on meal planning here for more tips.
Or, you can just download my free printable weekly meal planner here and start adding your battuto-based recipes!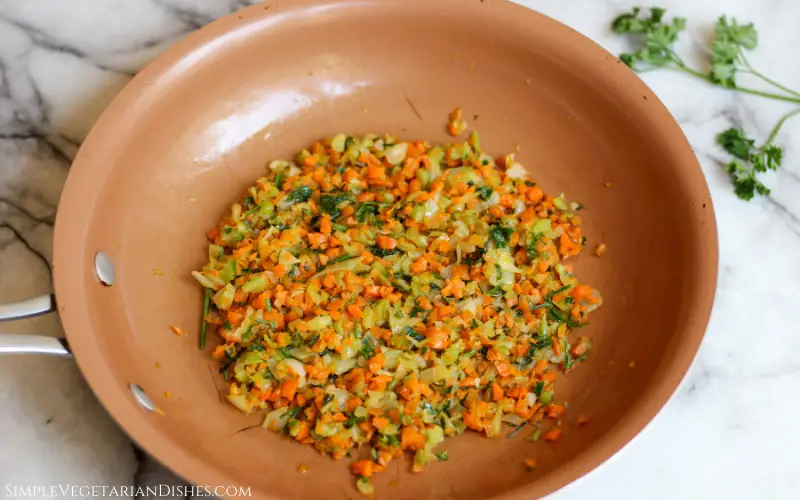 The three stages of cooking: odori, battuto, and soffritto
Odori
Historically, and even to this day in many Italian markets, when you buy fresh produce, the vendor may ask if you want some odori (literally smells).
If you say yes, they will add (you guessed it) a carrot, a celery stalk, an onion, some parsley, and maybe even some fresh basil to your order, often at no additional charge.
Battuto
Once you take them home and mince them, you have got yourself some battuto. The name means beaten, which is certainly one way of describing what happens to these minced vegetables.
Traditionally, women used a mezzaluna, a half moon shaped curved blade with a handle on each side, to mince their battuto. Because this was such a foundational recipe, their wooden cutting boards would often gain a bowl shaped indentation from all of the chopping.
Soffritto
Once your veggies are chopped, the next step is lightly cooking them in olive oil (or butter). The name soffritto comes from the term for stir-frying or sautéing, which gives away the secret.
Soffritto veggies should be softened, but not browned. About 10-15 minutes over low to medium heat should do the trick.
You can use soffritto as a base for a marinara sauce called sugo finto (literally fake sauce). The texture of the minced vegetables and the delicious flavor from cooking with olive oil can trick people into thinking you've made a meat sauce.
This final step of cooking soffritto is the step where people add their own personalization, often adding wine, lard, pancetta, or bacon to the olive oil to flavor their meal.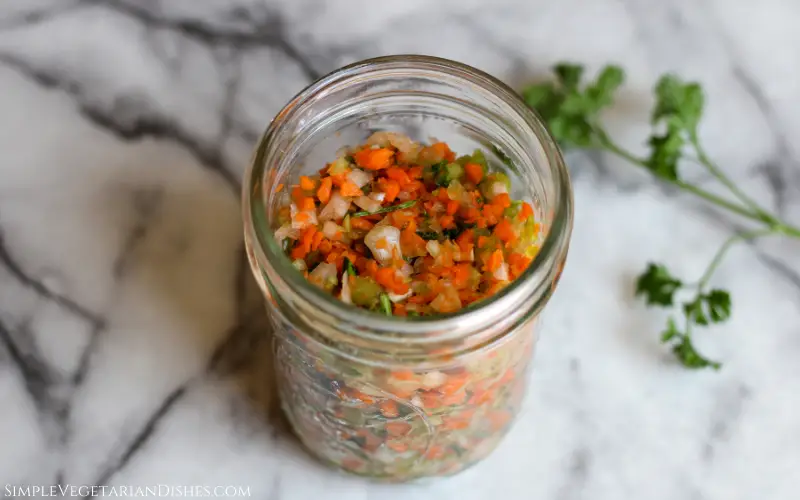 Regional Variations of Battuto
Battuto is the Italian version of this veggie blend, but all around the world people make their own similar vegetable bases for common foods.
Historic Spanish sofrito consists of sweet onions, leeks, carrots, and salt pork. Once tomatoes and bell peppers made their way over from the New World, modern Spanish sofrito includes these two transplants along with sweet onions and garlic.
In France, people make mirepoix, a blend of onion, carrots, and celery. Mirepoix is more strict than battuto in having a 2:1:1 ration of onions to celery and carrots, and it is usually cooked in butter.
Meanwhile, in Germany you may find suppengrün, which literally means "soup greens." It consists of a blend of carrots, celery root, and leeks. Sometimes people add in onions, parsnips, and/or potatoes.
Similarly, in Poland you may find włoszczyzna, which literally means Italian stuff. It is very similar to suppengrün but adds cabbage as a main ingredient.
Finally, back in the US, Creole and Cajun cooking uses the Holy Trinity: onion, celery, and green bell pepper.
Feel free to use these blends as inspiration as you make your own vegetable base!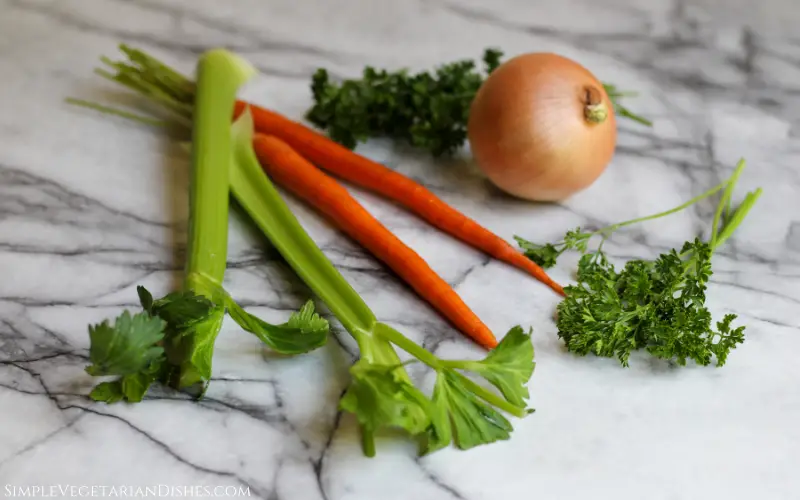 Battuto Ingredients
Before you begin, you will need:
Edible Ingredients
1/4 bunch of parsley (optional)
Tools
As an Amazon Associate I earn from qualifying purchases, at no additional cost to you. This post contains affiliate links, below. You can read more here.
If you'd like to try an authentic mezzaluna, you can get one from Amazon.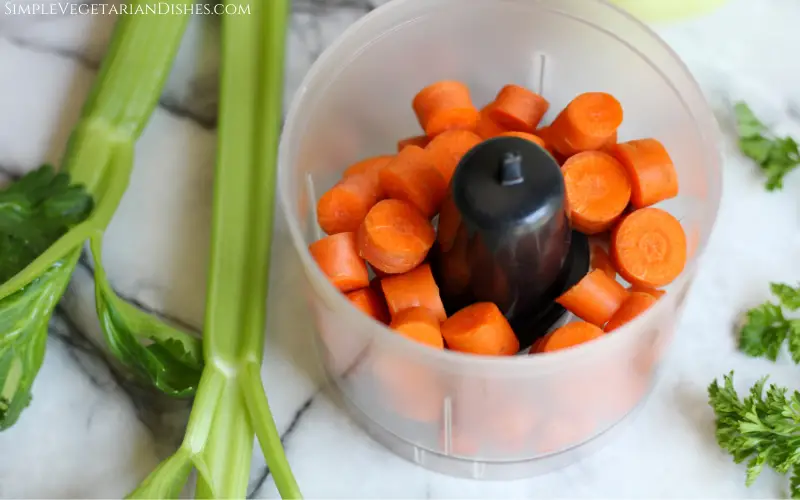 How to Make Battuto
First, wash and trim your vegetables.
After that, roughly chop them all into small enough pieces to go into your food processor.
Blitz away! I have a small food processor, so I did small batches of one type of veggie at a time. However, if you have a large food processor, you can technically mix it all together. For best results, put the carrots and celery in first, blitz a bit, and then add the onions. (The onions are softer, so if you process them for the same amount of time you would carrots, you end up with something more like onion goo than actual chopped onions.)
Finally, blend all the chopped veggies (and herbs, if desired) together. For long term storage, pack maybe a cup or so into freezer safe containers or ziplock bags for future use. You've made battuto!
If you'd like to make soffritto while the veggies are fresh, heat 1-2 Tbsp of olive oil in a skillet. Once hot, add a cup or so of battuto and allow to cook for around 10 minutes or so. The veggies should be soft, but not browned or caramelized.
Cooked soffritto can be stored in the fridge and used within a week or so.
Pin it for later!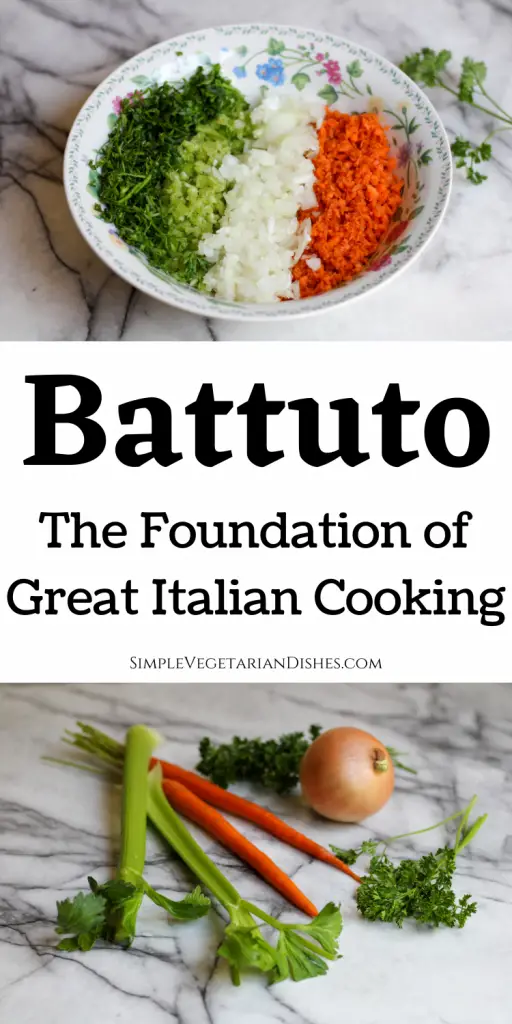 Variations on this recipe
As mentioned above, feel free to add garlic, basil, fennel, rosemary, or any other herbs you'd like.
Play with the ratios as well to suit your taste. The most common ratios are all equal amounts or 2 parts onion to 1 part each celery and carrot.
If you cook the battuto into soffritto for use within the week, many people add white wine for flavor in addition to olive oil. On the other hand, some recall their grandmothers using red wine, so take your pick.
I imagine lemon juice would also be a lovely addition to soffritto, as would crushed red pepper flakes and salt.
If you found this article helpful, please consider joining my email newsletter community for new recipes delivered straight to your inbox!
Recipes you can use battuto or soffritto as a base for
Vegan, gluten-free chickpea patties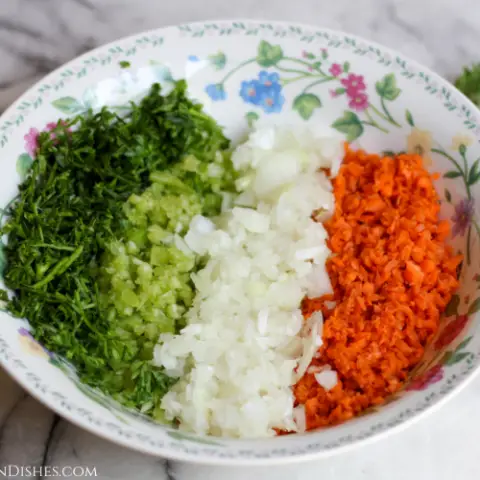 Battuto: The Foundation of Great Meals
This aromatic blend of minced vegetables and herbs becomes a great foundation to soups, sauces like marinara, stir-fries, frittatas, and more! Make a big batch and store some in the freezer to meal prep for busy nights!
Ingredients
2 carrots
2 celery stalks
1/2 of a large onion
1/4 bunch of parsley (optional)
Instructions
Wash and trim your vegetables and herbs.
Roughly chop them into small enough pieces to go in a food processor.
Blitz one at a time, or all together with the onions added last as they are the softest vegetable.
Store in freezer safe containers or bags, or saute some up with olive oil to make soffritto. (One cup battuto with 1-2 Tbsp olive oil over medium heat for 10 minutes or so, until softened but not browned.)
Notes
If you saute soffritto, it will keep in the fridge for about a week.
Nutrition Information:
Yield:

2.5
Serving Size:

1
Amount Per Serving:
Calories:

37
Total Fat:

0g
Saturated Fat:

0g
Trans Fat:

0g
Unsaturated Fat:

0g
Cholesterol:

0mg
Sodium:

60mg
Carbohydrates:

8g
Fiber:

3g
Sugar:

4g
Protein:

1g
I hope you enjoyed this article about how to make and use battuto!