This quick and tasty banana peach smoothie is a delicious and healthy way to start your day!
It is also a great way to use up bananas that are getting a little brown, which always seems to happen remarkably quickly!
Hectic mornings can make it challenging to sit down for a home-cooked meal, much less cook one!
However, smoothies are a quick and portable option that you can take with you and enjoy on the go.
Pin it for later!
Endlessly customizable, you can add in any ingredients that are a priority to you at the moment, such as protein powder, chia seeds, or leafy greens for more nutrition.
Of course, another perk is that there is no cooking required.
What's more, you can even sneak in extra healthy ingredients when serving to a picky eater, or to make them more palatable to yourself!
Finally, they taste great, and even people who don't consider themselves breakfast people may enjoy an ice cold, refreshing smoothie.
Variations on this banana peach smoothie recipe
Of course, feel free to add additional ingredients:
Protein powder
Frozen mango
Spinach or other leafy greens
Fresh or frozen cauliflower
Peanut butter or almond butter
Avocado
Chia or flax seeds, or flax oil
Fresh ginger or turmeric root, or powdered spices
Oats
Silken tofu
Vanilla extract
Dates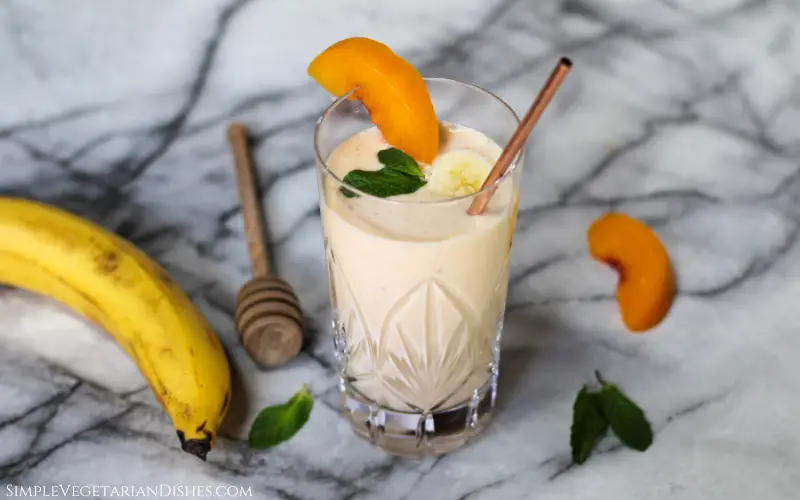 You can use canned peaches if that's what you have. Try to have some frozen fruit (so freeze the banana ahead of time) for a colder, thicker smoothie. Just check to see if the canned peaches are packed in water or syrup. The latter will turn this more into a dessert than a breakfast.
In addition, consider orange juice in place of the milk if you'd prefer a fruitier smoothie.
You can also make this banana peach smoothie without yogurt if preferred. This will yield a sweeter smoothie. However, it also takes away some of the protein, as well as the gut-healthy probiotics.
Get fancy with garnishes
Chia seeds
Fresh mint
Sliced fruit
A drizzle of nut butter
A sprinkle of cinnamon
Play around with main ingredients. For example, try:
Strawberry banana peach smoothie
Peach smoothie without banana
Peach pineapple banana smoothie
Can I use fresh peaches in this banana peach smoothie?
Yes!
If you use two fresh peaches, I would recommend using a frozen banana instead if possible.
The frozen fruit helps thicken the smoothie and keep it cold longer.
If you happen to have a high-powered blender, you could add a couple ice cubes instead.
Just be cautious – ice can be hard on a blender that's not specifically designed to handle it.
In addition, you may not need as much liquid as you would with frozen peaches.
Do I need to peel fresh peaches?
No, I wouldn't bother.
The skin is not very noticeable once blended. Plus, it adds fiber!
What's the best way to freeze bananas?
While of course you can simply place brown bananas directly in the freezer to preserve them, peel and all, this means you have to peel them after they are already frozen.
I prefer to peel bananas, break them into chunks (maybe 4-5 per banana), and store them in a freezer ziplock bag.
This makes it a little easier to use them when you need them.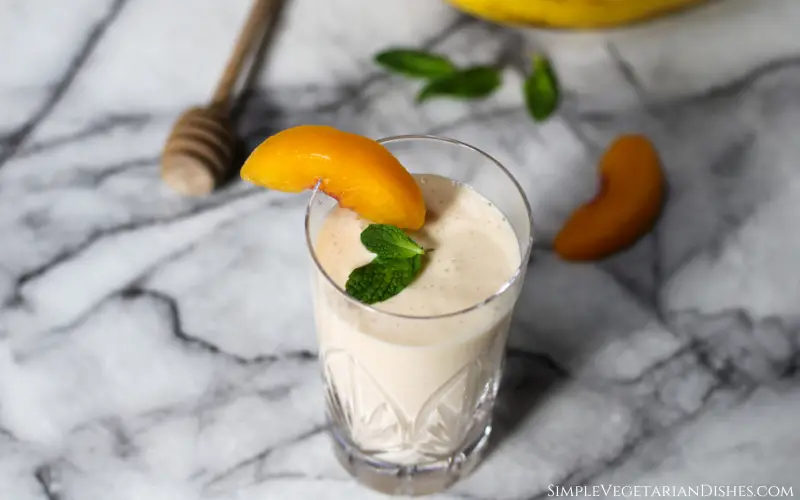 How do I sweeten this smoothie?
As written, this is a bit sweet but still tart from the Greek yogurt.
Riper fruit will sweeten it up a little.
In addition, try flavored, sweetened Greek yogurt instead of plain for a sweeter smoothie. Peach and vanilla both go well here.
Of course, you can also add an additional tablespoon of honey.
If you are vegan, you can replace the honey with maple syrup or your favorite sweetener (agave nectar, etc.).
Another vegan option would be adding a few dates to the smoothie in place of the honey.
Meal prepping and storage
To prep your smoothies ahead of time for the week:
You can measure out the amount of fruit needed for one smoothie into a freezer bag (or several one serving bags).
After that, measure out your milk and yogurt into airtight containers. Add the honey to the yogurt and store them in the fridge.
Then, you can simply grab a single-serve bag as needed and blend with the milk, yogurt, and honey without bothering with measuring cups.
Smoothies like this are best enjoyed right after being blended for optimal consistency.
If you won't have access to a blender later, you can store this smoothie in the refrigerator in an airtight container for up to 24 hours. Just note you will need to stir it well before enjoying, and the consistency will be a little different.
You can also store it in the freezer in an airtight container. Set it out to thaw an hour before you plan to drink it. You may wish to add up to 1/2 cup of milk or water to loosen it up.
Tips for making smoothies
Blend just long enough to combine everything. The longer you blend, the more the smoothie warms up.
If you plan to double this recipe, you may need to work in batches so there is enough room in the blender, depending on how big your blender is. This recipe makes about 2 cups, so two small smoothies or one large one.
Use a combination of fresh and frozen fruit. All frozen is a little harder on the blender, while all fresh isn't as cold, so it won't turn out as thick.
Be aware of ripeness. With very ripe bananas and peaches, you may not need any added sweetener, while with greener bananas you may want more than is written.
Taste as you go. This will help you determine when your smoothie is sweet enough, and is just a good rule of thumb in cooking in general.
The liquid will help the blender combine the ingredients, so make sure it can get all the way to the bottom or add it first (in other words don't let it sit on top of the yogurt).
Set aside a peach slice and/or banana slice to garnish your smoothie. You can also add mint, as pictured.
Optional dietary modifications
As written, this smoothie recipe is vegetarian and gluten-free. Some other adaptations you could make include:
Vegan: Substitute plant-based milk and yogurt for a dairy-free option, and replace the honey with maple syrup, etc. (Silk makes a good vegan yogurt, although the shelf life is shorter than for dairy yogurt.) If you don't have plant-based milk handy, you could also use orange juice or even water for the liquid.
What liquids work best for smoothies? (Can I use juice instead?)
Thick liquids like milks will yield the creamiest smoothies. If preferred, you could use juice (orange or mango juice would go great here!) or even water.
If you use water, you just need a little to loosen up the smoothie so the blender can process it properly.
What fruits go well with peaches?
Mangoes, pineapples, raspberries, strawberries, blueberries, cherries, and blackberries all taste great with peaches.
You can also add lemon or lime zest as well!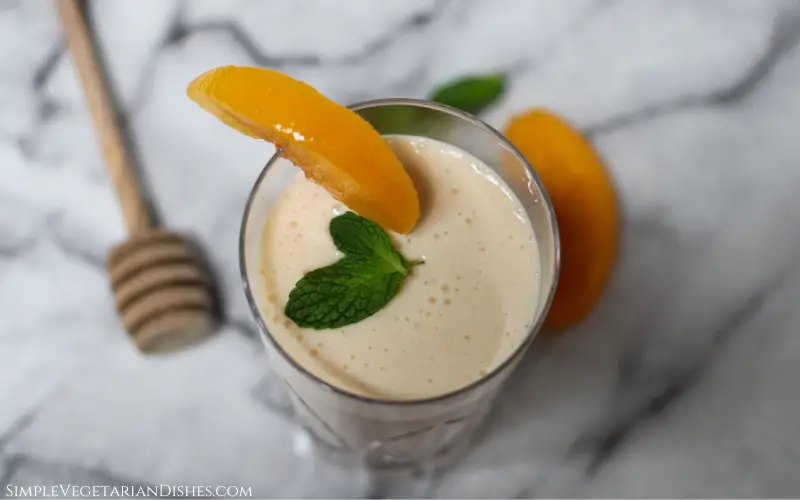 Is this banana peach smoothie healthy?
This nutritious smoothie provides about 10 grams of protein per cup (so 20 grams if you drink the whole recipe). Foods high in protein can help you feel fuller for longer, help lower your blood pressure, and help your body heal itself after injuries.
In addition, bananas are a great source of potassium, vitamin B6, and vitamin C.
Peaches are a moderate source of vitamin C, vitamin A, and potassium. For this reason, they can help contribute to heart health, help reduce inflammation, and help support a strong immune system and healthy eyes.
Peaches also provide antioxidants and soluble and insoluble fiber, which helps keep them on the lower end of the glycemic index.
On the other hand, this smoothie does have 32 grams of sugar per serving, which is not too far off from the 39 grams in a 12 ounce can of Coke, so it is best enjoyed in moderation (as most things are).
Some people who are sensitive to sugar choose to avoid sweet fruits, like bananas and grapes, and stick with fruits like berries instead.
This banana peach smoothie may not be suitable for people who follow a low-carb diet.
To cut back on the sugar and add more protein, try replacing some or all of the banana with silken tofu!
What is the best blender for making smoothies?
A high-powered blender, such as a Vitamix, Nutribullet, Ninja, etc., will be powerful enough to handle anything you choose to add. This includes ice, all frozen fruit, etc.
That being said, if you still have an older blender that works fine, that will be just perfect for this recipe. Just avoid ice, and try to make sure only one of the fruits, not both, are frozen.
(If both are frozen, maybe set them out for a few minutes while they get ready to be gentler to your blender.)
Of course, if your blender gets stuck with the frozen fruit, you can always add a bit more liquid and try again.
Should I use ice in this smoothie?
I wouldn't recommend it. It will just end up watering down the flavor.
The frozen fruit is enough to chill the smoothie and keep it thick.
Plus, as I've mentioned, ice can be hard on blenders.
What should I not add to this smoothie?
If you are drinking this for breakfast or an afternoon snack, rather than as a dessert, I would skip too much extra sugar, such as:
Ice cream
Canned peaches in heavy syrup
More than a couple tablespoons of orange juice, etc.
Related Vegetarian Breakfast Recipes
You may also enjoy:
If you found this article helpful, please consider joining my email newsletter community for new recipes delivered straight to your inbox!
Ingredient for an easy banana peach smoothie
Before you begin, you will need:
EDIBLE INGREDIENTS for 2 small SERVINGs or 1 large banana peach smoothie
1 1/2 cups frozen peach slices
1 large banana
1/2 cup milk of your choice
1/2 cup Greek yogurt (vegan if applicable)
1 Tbsp honey (or maple syrup if vegan)
TOOLS AND EQUIPMENT
Blender
Measuring cups and spoons
Spatula
How to make the perfect banana peach smoothie
First, measure out your ingredients.
Then, add everything to a blender and blend until smooth. You may need to scrape down the honey and blend again.
Finally, pour into glasses, garnish with extra fruit or herbs if desired, and enjoy cold!
Banana Peach Smoothie
This quick and tasty banana peach smoothie is a delicious and healthy way to start your day!
Ingredients
1 1/2 cups frozen peach slices
1 large banana
1/2 cup milk of your choice
1/2 cup Greek yogurt
1 Tbsp honey
Instructions
First, measure out your ingredients.
Then, add everything to a blender and blend until smooth. You may need to scrape down the honey and blend again.
Finally, pour into glasses, garnish with extra fruit or herbs if desired, and enjoy cold!
Nutrition Information:
Yield:

2
Serving Size:

1
Amount Per Serving:
Calories:

201
Total Fat:

2g
Saturated Fat:

1g
Trans Fat:

0g
Unsaturated Fat:

1g
Cholesterol:

8mg
Sodium:

50mg
Carbohydrates:

40g
Fiber:

4g
Sugar:

32g
Protein:

10g
I hope you were inspired by this easy banana peach smoothie recipe!